This map highlights the most popular book set in every state

Check out a broken down, state-by-state list:
Alabama: To Kill a Mockingbird
Alaska: Into the Wild
Arizona: The Bean Trees
Arkansas: True Grit
California: Of Mice and Men
Colorado: The Shining
Connecticut: Revolutionary Road
Delaware: Fight Club
Florida: Their Eyes Were Watching God
Georgia: Gone with the Wind
Hawaii: Molokai'i
Idaho: Housekeeping
Indiana: The Fault in Our Stars
Illinois: The Time Traveler's Wife
Iowa: The Bridges of Madison County
Kansas: The Wonderful Wizard of Oz
Kentucky: The Patron Saint of Liars
Louisiana: Interview with the Vampire
Maine: The Cider House Rules
Maryland: Dinner at the Homesick Restaurant
Massachusetts: Little Women
Michigan: Middlesex
Minnesota: Ordinary Grace
Mississippi: The Help
Missouri: The Adventures of Huckleberry Finn
Montana: A River Runs Through it and Other Stories
Nebraska: Attachments
Nevada: Fear and Loathing in Las Vegas
New Hampshire: A Prayer for Owen Meany
New Jersey: Drown
New Mexico: Red Sky at Morning
New York: The Great Gatsby
North Carolina: A Walk to Remember
North Dakota: Love Medicine
Ohio: Ready Player One
Oklahoma: The Outsiders
Oregon: One Flew Over the Cuckoo's Nest
Pennsylvania: The Lovely Bones
Rhode Island: My Sister's Keeper
South Carolina: The Secret Life of Bees
South Dakota: Black Hills
Tennessee: The Color Purple
Texas: Holes
Utah: The 19th Wife
Vermont: Midwives
Virginia: Bridge to Terabithia
Washington: Snow Falling on Cedars
West Virginia: Shiloh
Wisconsin: American Gods
Wyoming: The Cold Dish
Reading across America!!! How many states have you visited through books???

Minnesota, let's read together.
One Book | One Minnesota is a statewide book club that invites Minnesotans of all ages to read a common title and come together virtually to enjoy, reflect, and discuss.
Libraries are essential for connection, and through One Book | One Minnesota, libraries across the state will connect their communities through stories. The program aims to bring Minnesotans closer together during this time of distance and adversity.
The featured book for Summer 2020 is A Good Time for the Truth: Race in Minnesota, edited by Sun Yung Shin (Minnesota Historical Society Press). Ebooks and resources will be available soon.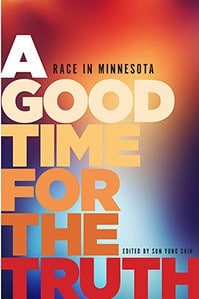 Welcome to the second chapter of One Book | One Minnesota. When we started this program two months ago with Because of Winn-Dixie, it was in response to the isolation and resource gaps created by the COVID-19 pandemic. Our desire was to bring Minnesotans together to share in the collective joy of reading and come together as a virtual community.
Since then, the Minneapolis police murdered George Floyd, and led by Black community members and activists, the world erupted in grief, protest, and perhaps finally a reckoning that we must confront institutional and systemic racism – and that means all of us. Reading this book in community offers some Minnesotans the opportunity to see their experiences broadly shared and others a chance to educate themselves—and to discover ways to act on their convictions.
We are fortunate that Minnesota is home to many talented writers whose work can inform and guide us on this journey. In 2016, the Minnesota Historical Society Press published a series of essays by Native writers and writers of color in Minnesota entitled A Good Time for the Truth: Race in Minnesota, edited by Sun Yung Shin. We are grateful and proud to bring this book forward for the second chapter of One Book | One Minnesota.
One Book | One Minnesota is presented by The Friends of the Saint Paul Public Library, as the Minnesota Center for the Book, in partnership with State Library Services. Program partners also include Council of Regional Public Library System Administrators, Minitex (a joint program of the University of Minnesota and the Minnesota Office of Higher Education), the Minnesota Department of Education, and Minnesota Historical Society Press. 
Resources for Libraries
If you're a participant looking for information on book club events, please check your local library's website. Resources for both the current and original book selections are available below. 

Made possible in part by the State of Minnesota through a grant to the Minnesota Department of Education
How can I access the Library's WiFi?
To access the WiFi around the building perimeters:
Our network name is Windom Library
The password is book6131.