Virtual Programming
Doug Ohman: Journey Down the Mississippi
Join Doug Ohman as he travels down the Mississippi. Part 1 of the journey will be available starting on June 10
 July 15, and Part 3 on August 12.
Part 1:  Ride along by kayak on the Mighty Mississippi River with Minnesota photographer and storyteller, Doug Ohman.  Doug will take you from the river's headwaters at Lake Itasca to the central Minnesota town of Little Falls.  Along the way you will experience wilderness, large lakes and interesting towns in this 400 mile journey.  Doug will share Minnesota history and stories that relate to this upper section of river.
 https://www.youtube.com/watch?v=Ca9oHi3CrJE
Part 2:  Continue Kayaking with Doug Ohman through the heart of Minnesota from Little Falls to St. Paul.  This 130 miles of river is sure to entertain and educate as we travel through some larger urban centers such as St. Cloud and Minneapolis.  We will experience going through three river locks on this stretch.  Doug will also share more historical information about two very important explorers of the Mississippi River.
https://www.youtube.com/watch?v=ciaWTJfzvPI&t=5s
Part 3:  From the river city of St. Paul ride along with kayaker Doug Ohman as he completes the entire Mississippi River to the Iowa border.  This stretch of nearly 200 miles of river takes us into some of the most picturesque scenery on our trip so far.  We will also experience some of the most charming river towns in the state, such as Red Wing and Wabasha.  When we finally get to the Iowa border, we will have traveled approximately 720 miles of this incredible American river.
https://www.youtube.com/watch?v=Bv-pr0U97hY&t=1s
Remember to fill out the 2020 Census!
You can do it online at the Windom Library
The self-response phase has been extended until October 31st at www.2020census.gov or by phone in English at 844-330-2020, or in Spanish at 844-468-2020.

Minnesota, let's read together.
One Book | One Minnesota is a statewide book club that invites Minnesotans of all ages to read a common title and come together virtually to enjoy, reflect, and discuss.
Libraries are essential for connection, and through One Book | One Minnesota, libraries across the state will connect their communities through stories. The program aims to bring Minnesotans closer together during this time of distance and adversity.
Just Announced: One Book Second Chapter | Summer 2020
The featured book for Summer 2020 is A Good Time for the Truth: Race in Minnesota, edited by Sun Yung Shin (Minnesota Historical Society Press). Ebooks and resources will be available soon.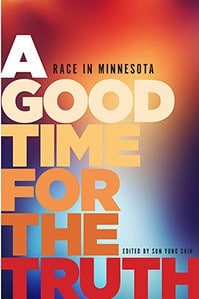 Welcome to the second chapter of One Book | One Minnesota. When we started this program two months ago with Because of Winn-Dixie, it was in response to the isolation and resource gaps created by the COVID-19 pandemic. Our desire was to bring Minnesotans together to share in the collective joy of reading and come together as a virtual community.
Since then, the Minneapolis police murdered George Floyd, and led by Black community members and activists, the world erupted in grief, protest, and perhaps finally a reckoning that we must confront institutional and systemic racism – and that means all of us. Reading this book in community offers some Minnesotans the opportunity to see their experiences broadly shared and others a chance to educate themselves—and to discover ways to act on their convictions.
We are fortunate that Minnesota is home to many talented writers whose work can inform and guide us on this journey. In 2016, the Minnesota Historical Society Press published a series of essays by Native writers and writers of color in Minnesota entitled A Good Time for the Truth: Race in Minnesota, edited by Sun Yung Shin. We are grateful and proud to bring this book forward for the second chapter of One Book | One Minnesota.
One Book | One Minnesota is presented by The Friends of the Saint Paul Public Library, as the Minnesota Center for the Book, in partnership with State Library Services. Program partners also include Council of Regional Public Library System Administrators, Minitex (a joint program of the University of Minnesota and the Minnesota Office of Higher Education), the Minnesota Department of Education, and Minnesota Historical Society Press. 
Resources for Libraries
If you're a participant looking for information on book club events, please check your local library's website. Resources for both the current and original book selections are available below. 

Made possible in part by the State of Minnesota through a grant to the Minnesota Department of Education
How can I access the Library's WiFi?
To access the WiFi around the building perimeters:
Our network name is Windom Library
The password is book6131.